6th Jul 2020
More important than ever for patients to resume treatment
Now that we have seen a major relaxation in lockdown restrictions in England with pubs, cinemas and cafes re-opening, it is more important than ever that patients resume follow-up treatments and/or check ups as soon as possible.
You have probably heard in the media that a significant backlog of delayed appointments has built up over recent months because patients have been reluctant to make hospital or clinic visits due to the COVID crisis.
Tonight (Mon, July 6) Panorama on BBC One will be highlighting new research showing that delays in cancer diagnosis and treatment due to coronavirus could cause, in a worst case scenario, up to 35,000 excess deaths in the UK in the next year.
The programme entitled Britain's Cancer Crisis will also say that up to 2 million routine cancer screenings may have been missed over the past few months and there has been a 45% drop in urgent cancer referrals for the period up to the end of May.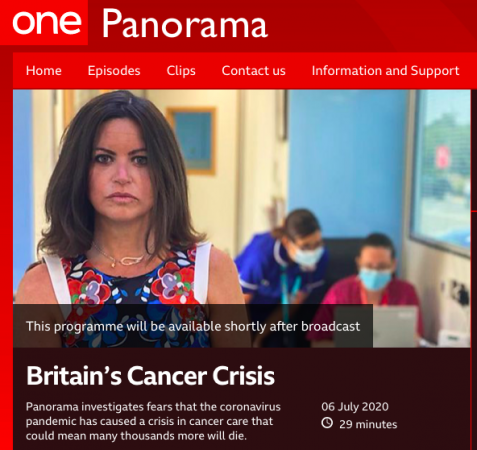 Thankfully, more patients are beginning to book appointments for face-to-face consultations and follow-up treatments since the lockdown began to ease.
However I am happy to give a categoric assurance both The Royal Marsden Hospital and the Harley Street Clinic where I work could not have put in place more rigorous safety and hygiene procedures to protect visiting patients.
Any COVID patients are treated entirely separately well away from areas used by visiting outpatients.
Both establishments have also re-doubled efforts to ensure the safety and wellbeing of patients.
All staff involved in patient-facing roles undergo strict screening procedures, and social distancing, masks and stringent hygiene rules are in place for every patient visit.
These include a thorough cleaning of equipment and the consultation room before each patient arrives.
Since the lockdown began last March, I have been conducting as many consultations as possible by phone or video conferencing.
However for some patients it is essential that I see them to carry out tests, conduct scans and examine symptoms.
I believe now is the time for patients to return to normal, scheduled visits and they can do so with confidence and peace of mind that they will be safe to do so and will not be putting themselves at undue risk.
When you come for your appointment at the Harley Street Clinic, you will notice we have put new measures in place to support delivering safe care during COVID-19. From extra infection prevention measures, to the layout of our hospitals with social distancing in mind, everything we do has been reviewed to make sure we are providing the safest places for your care.  These measures are guided by both national and international best practice.
You can watch a video about what to expect during your visit to an HCA UK hospital or clinic and find out more about our safety measures here https://www.hcahealthcare.co.uk/your-safety-comes-first
Please do not hesitate to contact me or my team if you wish to discuss any of these issues and hopefully we can allay any fears you may have.
For the Harley Street Clinic, please contact Elizabeth Nartey, Medical PA, on 0207 126 7077 or email: [email protected]
For The Royal Marsden Hospital, contact Sylvia Young 0207 808 2586 or email: [email protected]
For more information about Prof Nutting's work please visit the CV page, get in touch or arrange a consultation.