8th Mar 2022
Exciting new research post
I'm delighted to say that I have been appointed as a Senior Investigator with the National Institute for Health Research (NIHR).
The NIHR plays a central role in England's health and care research landscape. It works alongside other organisations that have an overarching aim to strengthen health research in the UK.
The research body holds an annual, open competition to fund Senior Investigators, who are critical to augmenting the ongoing success of the organisation and developing health research capability fit for the challenges faced by the NHS.
Following an open competition, 55 NIHR Senior Investigators have been appointed in 2022. Of these, I am one of thirty new researchers who have been chosen, while others have been re-appointed.
In the role, Senior Investigators:
Lead in training and development of NIHR's people
Act as an ambassador for the NIHR in the wider system
Demonstrate research excellence
Integrate patient and public involvement in research
Play a leading role in NIHR's contribution to growth
Collectively, Senior Investigators constitute the NIHR College of Senior Investigators, and are members of the NIHR Academy. There are now over 200 active members part of the College of NIHR Senior Investigators.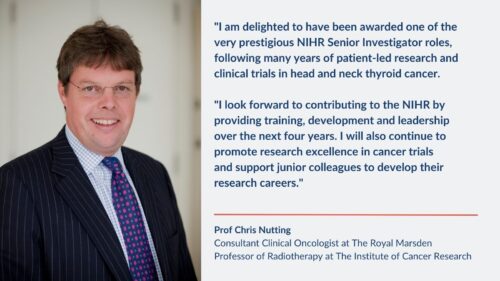 My appointment to the prestigious position of Senior Investigator follows many years of patient-led research and clinical trials in head and neck thyroid cancer.
I am looking forward to contributing to the NIHR by providing training, development and leadership over the next four years, and I will also continue to promote research excellence in cancer trials and support junior colleagues to develop their research careers.
The new role is in addition to my positions as Consultant Clinical Oncologist at The Royal Marsden and Professor of Radiotherapy at The Institute of Cancer Research, London.
For more information about Prof Nutting's work please visit the CV page, get in touch or arrange a consultation.