14th Oct 2020
New advance in cancer treatment hailed a game-changer
Medical science is advancing all the time and it is gratifying to play a role in at least one recent development. 
The Daily Mail has this week highlighted the latest advance in targeted radiotherapy to treat head and neck cancers.
The improved, highly targeted technique will help patients undergoing radiotherapy for throat cancer to retain the ability to swallow normally.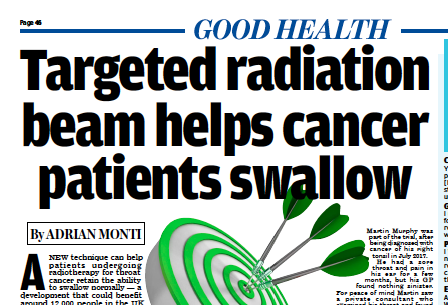 Its impact has the potential to benefit up to 12,000 people in the UK who are diagnosed with throat cancer each year.
Radiotherapy has been one of the main treatments for cancer for many years. However there can be adverse side-effects because healthy tissue near the cancer site can be damaged by the radiation.
Some years ago I was at the forefront of developing a more targeted technique called Intensity Modulated Radiotherapy (IMRT), which has been the gold standard treatment since 2011 across the UK and internationally.
Ultra-advanced
More recently an even more accurate technique has been trialled by the Royal Marsden NHS Foundation Trust and The Institute of Cancer Research.
I compare this ultra-advanced treatment to someone wearing a tailor-made suit.
A CT scan is used to design the treatment based on the site and position of the tumour.
This is a complex process that can take a fortnight. The dose and route is programmed by a computer system which divides the radiation into many smaller beams that can be better targeted and then turned off so they do not transmit through healthy tissue and organs.
Over the course of the six-week radiotherapy treatment, checks are made to ensure the tailor-made "suit" is still the perfect fit for the patient.
The trial has produced game-changing results which were presented earlier this year to the American Society of Clinical Oncology virtual conference.
They showed that 25 per cent fewer patients suffered with swallowing issues when they received the new optimised radiotherapy, compared with those on the standard technique.
IMRT has shown itself to be a very effective treatment for cancer and it is hoped that the new technique will be adopted throughout the UK and become the new international standard of care.
Follow the link here to read the article in the Daily Mail's Good Health section including the inspiring story of retired healthcare manager Martin Murphy who took part in the trial and who is now back to eating normally, thanks to his persistence and the specialist treatment.
(main image by quoteinspector.com)
For more information about Prof Nutting's work please visit the CV page, get in touch or arrange a consultation.