2nd Sep 2022
Honoured to be a jolly good Fellow!
It was a huge honour and privilege for me this week when I was presented with an Honorary Fellowship by the Royal College of Speech & Language Therapists (RCSLT).
The award was especially significant because I am not a member of the RCSLT and the prestigious royal college awards only a very small number of Honorary Fellowships.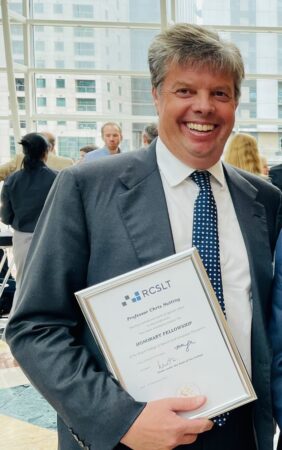 The award was for my "distinguished service in promoting the profession of speech and language therapy."
I was proposed by Consultant Speech and Language Therapist Dr Justin Roe and seconded by Grainne Brady, Clinical Lead & Language Therapist at The Royal Marsden NHS Foundation Trust.
The glittering ceremony took place at the spectacular East Wintergarden at London's Canary Wharf.
In my work as Consultant Clinical Oncologist at The Royal Marsden in London and in private practice, I work closely with speech and language therapists to help head and neck cancer patients recover after treatment.
Our aim is always to assist patients in regaining their full speech as quickly as possible.
A key area of medical research is to reduce and minimise debilitating side-effects from treatment such as surgery, radiotherapy and chemotherapy.
In helping patients regain their voice, speech and language therapists play a vital role in improving their quality of life.
In doing so, they also assist patients in restoring their confidence so they feel more able to return to normal life.
Dating back to 1945, the RCSLT has a worldwide reputation. Its current Patron is the HRH The Countess of Wessex.
For more information about Prof Nutting's work please visit the CV page, get in touch or arrange a consultation.