23rd Jun 2023
Head and neck cancer patients to benefit from new £70m centre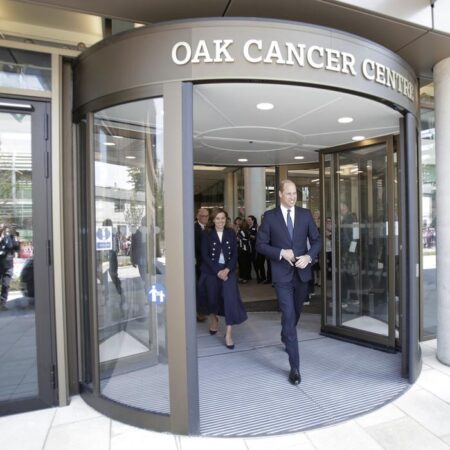 Head and neck cancer patients will benefit from a state-of-the-art new facility at The Royal Marsden hospital in Sutton, Surrey.
HRH Prince William opened the new Oak Cancer Centre this month in his role as President of The Royal Marsden NHS Foundation Trust.
The centre brings together researchers, clinicians and patients in the same building in order to "foster collaboration and deepen The Royal Marsden's patient-centred approach to research."
The centre is named after the Oak Foundation which donated £25 million to The Royal Marsden Cancer Charity's £70 million appeal for the facility.
Earlier diagnosis
The Oak Centre will enable clinicians to diagnose more cancers at an earlier stage and has been designed to enhance the patients' experience while undergoing treatment.
Opening the centre, HRH The Prince of Wales said: "The Oak Cancer Centre is a major milestone in both The Royal Marsden's history and the future of early diagnosis. I was delighted to launch the appeal for this facility eight years ago and lay the foundation stone in 2020, so I am incredibly proud to be standing here with you all today in this beautiful building.
"For the first time, the state-of-the-art Oak Cancer Centre brings together hundreds of researchers alongside patients. This will deliver truly integrated 'bench to bedside' studies that will speed up the development and translation of new personalised treatments – not just for Royal Marsden patients here, but for cancer patients worldwide."
Improved research
Dame Cally Palmer, Chief Executive of The Royal Marsden NHS Foundation Trust said: "This Centre will help the hospital to go faster and further in the delivery of research and cancer treatments and provide the very best environments for our patients."
The centre is home to the new Charles Wolfson Rapid Diagnostic Centre, which will use the latest technology to provide earlier and faster diagnosis for people, helping to save more lives.
There is also a new Medical Day Unit that will provide patients with a quiet and peaceful space for receiving chemotherapy.
There is an outpatient's area and suite for remote video call consultations, to save unnecessary trips to the hospital.
For more information about Prof Nutting's work please visit the CV page, get in touch or arrange a consultation.